Sure, it's early, but sportsbooks are already giving us an early look at divisional betting odds and win totals, so we can't ignore them. The new league year just started, and free agent signings and subsequent roster moves have been rolling in non-stop over the past week. We're unpacking the NFL Draft weekly on Move The Line, and we're still awaiting the schedule release, which should come in mid-May, though we do know who each team plays.
As of this writing, we have a partial picture of what's to come and how to handicap each division, but there are impactful data points still to come over the coming months. So with that said, let's look at each team's current status and how to bet on them.
---
The easiest way to get access to all of these bets is through our newest partner, which allows you to get a 3-month subscription for just $5! Find out how here!
---
New England
Patriots
Schedule Notes
All AFC East teams face the AFC West and NFC East this season, with their additional three games coming against teams that finished in the same place in their respective division (two in conference, one non-conference), which I'll list below.
2023 Divisional Odds: 10/1 (Caesars)
2023 Win Total: 7.5
2022 Record: 8-9
2022 Offensive EPA Rank: 24th
2022 Defensive EPA Rank: 3rd
Effective Cap Space (per OverTheCap.com): $8.1 million
First-Round Draft Pick: No. 14
Total Draft Picks: 11
3 Unique 2023 Opponents: New Orleans, Indianapolis, @ Pittsburgh
The Patriots entered last off-season with a lot of question marks offensively, but quarterback wasn't one of them. Instead, injuries and poor play brought the focus on Mac Jones and his future heading into the 2023 season, but replacing Matt Patricia and Joe Judge's offensive responsibilities by adding an actual offensive coordinator in Bill O'Brien should help.
Free Agency Notes
The Patriots have been active in free agency, primarily focusing on resigning a few members of last year's squad. They resigned three Free-Agent cornerbacks, Jonathan Jones, Myles Bryant, and Jalen Mills. They also played musical chairs at wide receiver and tight end, replacing Jakobi Meyers (LV) and Jonnu Smith (ATL) with JuJu Smith-Schuster and Mike Gesicki.
Remaining Roster Priorities
Trent Brown is in the final year of his deal, and recent free agent acquisition Riley Reiff is 34 years old and signed a one-year deal to fill in on the right side, with Isaiah Wynn likely moving on. New England needs an infusion of young talent along the line, which could be addressed in the draft. New England has 11 picks, and I'd set the over/under on actual picks made at 8.5. Offensive playmakers are still needed, but it's a bad year for that, both in free agency and through the draft.
How To Bet On The New England
Patriots
For the first time in about 30 years, the Patriots feel miles behind their divisional opponents. Defensively, they're on par with their peers, but even the most optimistic Patriots fan has to admit that this is the worst offense in the AFC East. They're priced properly right now at 7.5 wins, and the defense should still be good enough to prevent them from completely bottoming out.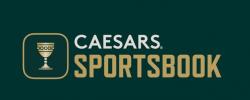 Caesars Sportsbook Bonus
First Bonus Bet up to $1,250 and earn 1,000 Reward Credits and 1,000 Tier Credits regardless of the outcome of the bet.