Phil Foden will miss Manchester City's Premier League fixture with Liverpool on Saturday after undergoing surgery for acute appendicitis.
The 22-year-old left the England squad ahead of Sunday's Euro 2024 Qualifier with Ukraine and City said "it is unclear at this stage how long he will be unavailable for."
City, who are looking to chase down Arsenal's eight-point lead at the top of the Premier League, host Liverpool at the Etihad Stadium at 12.30pm on Saturday.
Before the end of April, Pep Guardiola's side also play Bayern Munich twice in the Champions League quarter-finals and take on Sheffield United in the FA Cup semi-finals at Wembley.
Foden has featured 36 times for City in all competitions this season, scoring 13 goals and registering six assists.

Saturday 8th April 5:00pm


Kick off 5:30pm

'Shocking, sudden news on Foden'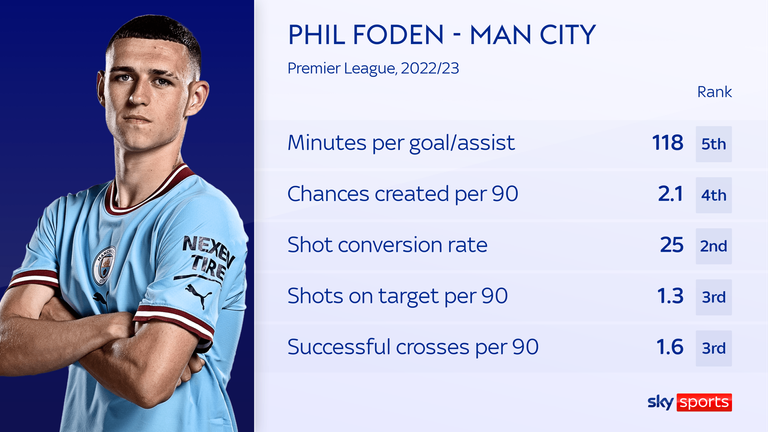 Sky Sports News senior reporter Rob Dorsett:
"It's shocking news and it's surprising news. We're so used to speaking about footballers picking up injuries in training or in matches but this is a medical condition.
"This is something completely separate and by the sound of things it happened pretty suddenly. We don't know all the details but Foden is currently recovering in hospital having had his appendix removed.
"It's a big blow for Gareth Southgate and for England, but he will also be missing that huge lunchtime match against Liverpool for Manchester City next weekend.
"In the context of the title race against Arsenal, supporters will be wondering how long they will be without one of their star players as he recovers from the operation."
April 1: Liverpool (H) – Premier League, kick-off 12.30pm
April 8: Southampton (A) – Premier League, kick-off 5.30pm, live on Sky Sports
April 11: Bayern Munich (H) – Champions League, kick-off 8pm
April 15: Leicester (H) – Premier League, kick-off 5.30pm, live on Sky Sports
April 19: Bayern Munich (A) – Champions League, kick-off 8pm
April 22: Sheffield United (N) – FA Cup, kick-off 3pm
April 26: Arsenal (H) – Premier League, kick-off 8pm
April 30: Fulham (A) – Premier League, kick-off 2pm, live on Sky Sports
May 3: West Ham (H) – Premier League, kick-off 8pm, live on Sky Sports
May 7: Leeds United (H) – Premier League, kick-off 2pm, live on Sky Sports
May 13: Everton (A) – Premier League, kick-off 3pm
May 20: Chelsea (H) – Premier League, kick-off 3pm
May 28: Brentford (A) – Premier League, kick-off 4.30pm
TBA: Brighton (A) – Premier League