This weekend sees some huge games between teams battling relegation, but BBC Sport's football expert Chris Sutton feels one man in particular is in dire need of a positive result.
"West Ham manager David Moyes is under massive pressure," said Sutton. "If his side are beaten by bottom side Southampton on Sunday, then I think it could turn really ugly for him at London Stadium.
"It is the fans who get the manager sacked at any club and Moyes might not last much longer if they lose."
Sutton is making predictions for every Premier League game this season against a variety of guests.
For this weekend's fixtures, he is up against DMA'S frontman and Everton fan Tommy O'Dell.
DMA'S new album, How Many Dreams?, is out on Friday and they have just arrived from Australia for their UK tour in April.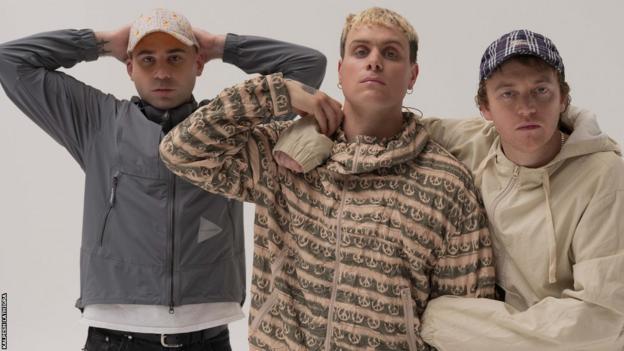 O'Dell is from Sydney, which is where the band formed, but he is an Everton fan because of his dad, who is from Liverpool.
He has not had much to cheer about recently while following their fortunes from afar, but is confident about their hopes of staying up under Sean Dyche.
"We've had a tough time of things this season but there has definitely been an improvement since Dyche took charge at the end of January," O'Dell told BBC Sport.
"I was really happy when Frank Lampard was appointed [at the start of 2022] and he did a great job of keeping us up last year – it was all very exciting when we came back to beat Crystal Palace to get to safety with a game to go.
"But we lost Richarlison to Tottenham in the summer and didn't pick up another striker to cover Dominic Calvert-Lewin when he was injured.
"It felt like doom kind of set in for Lampard as this season went on. As much as I liked him, and the way he got the fans behind the team again, his results just weren't good enough to keep him in the job.
"But look, the future is hopefully a bit brighter at the moment. Our defence has improved under Dyche but we are playing attacking football, with more crosses into the box and more forward passing.
"He has kind of simplified things a bit, and it is working. We are starting to score off corners and set-pieces and little things like that have helped us get results, compared to earlier in the season when we didn't carry much of a threat from anywhere.
"But we are not out of trouble yet because it is all so close at the bottom and there is not one game where you think that is a definite win.
"Look at what happened to Liverpool against Bournemouth a couple of weeks ago. Usually it would be good news for them to lose, but not to one of our relegation rivals!
"At least we have been here before – I still remember when I was a kid and we signed Kevin Campbell [in the spring of 1999] and he kept us in the Premier League by scoring nine goals in his first eight games.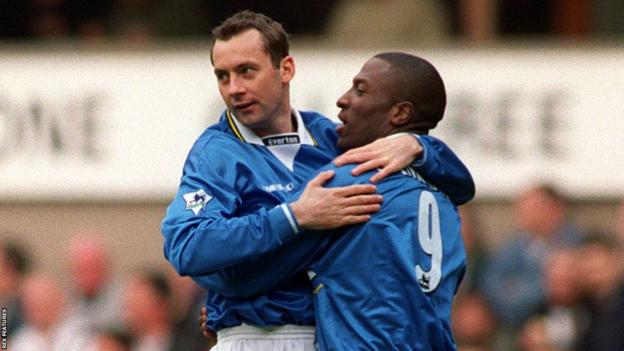 "When you stay up like that, or like we did with that game against Palace last year, it is an unbelievable feeling. We thought we would build on that this season, but instead we are back in another relegation battle.
"I am convinced we have got what it takes this time too, though.
"Our form at Goodison Park is still strong but, even away from home, we look like we can fight back in games to get something out of them – we've got that spirit and, with a bit of luck, we can get through this."
When?

Result

Sutton

Tommy

SATURDAY, 1 APRIL

Man City v Liverpool

x-x

3-1

2-0

Arsenal v Leeds

x-x

2-0

0-1

Bournemouth v Fulham

x-x

1-1

1-2

Brighton v Brentford

x-x

2-1

0-2

Crystal Palace v Leicester

x-x

1-1

3-1

Nott'm Forest v Wolves

x-x

0-1

0-0

Chelsea v Aston Villa

x-x

2-1

2-0

SUNDAY, 2 APRIL

West Ham v Southampton

x-x

1-1

1-1

Newcastle v Man Utd

x-x

2-1

1-2

MONDAY, 3 APRIL

Everton v Tottenham

x-x

2-1

3-0
A correct result (picking a win, draw or defeat) is worth 10 points. The exact score earns 40 points.
SUTTON'S PREDICTIONS
Games kick off at 15:00 BST unless otherwise stated
SATURDAY, 1 APRIL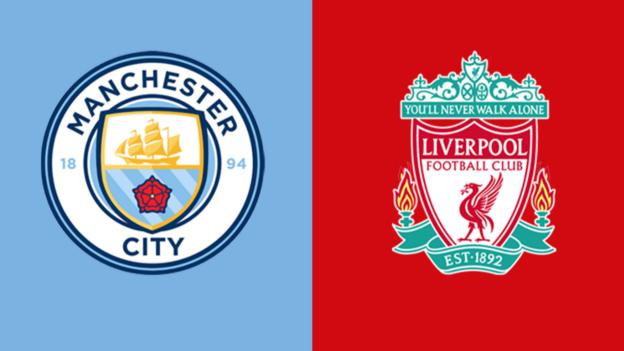 Man City v Liverpool (12:30 BST)
Manchester City cannot afford to slip up here and lose any more ground in the title race. This is a must-win game for them.

Liverpool will play on the front foot and try to take the game to City and I am sure they will cause them some problems, but I still worry about the Reds at the other end.
Their high defensive line has been found out plenty of times this season and they are so inconsistent that I just don't trust them to hold out. I fancy City strongly in this one.
Sutton's prediction: 3-1
Tommy's prediction: City are going to win this one but I am not sure if they are going to retain their title – I think the Champions League is where it's at for them this season. I have been doubting Arsenal recently but I have been doubting them all year, and they are still there at the top. 2-0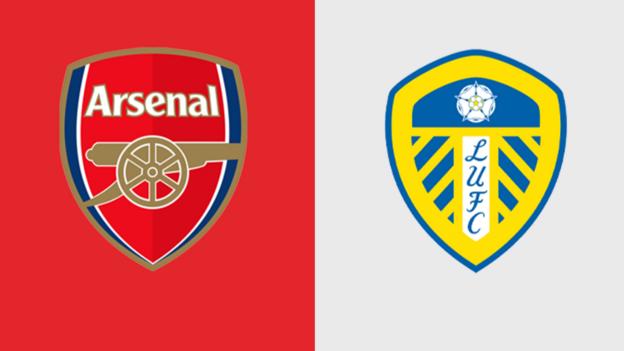 Arsenal v Leeds
I have said many times this season that Leeds have got some talented players who have not put a 90-minute performance together, and they finally did that with their 4-2 win at Wolves before the international break.
I certainly don't see this as being straightforward for Arsenal but the Gunners are on this marvellous run of six successive league wins since they lost to Manchester City in February, and they always seem to find a way of getting the right result.
Leeds will be lively and I really like Wilfried Gnonto when he gets on the ball but Arsenal have got Bukayo Saka, who is the best right-winger in the world at the moment.
Gabriel Jesus will be closer to full fitness now too after getting some minutes under his belt in March so they have got some great options up front. Arsenal will create lots of chances and I don't see Leeds keeping them out.
Sutton's prediction: 2-0
Tommy's prediction: As much as I want Leeds to lose because they are in the relegation battle with us, I am going for an upset here. Like I say, I always think Arsenal are going to drop points – I might be right this time! 0-1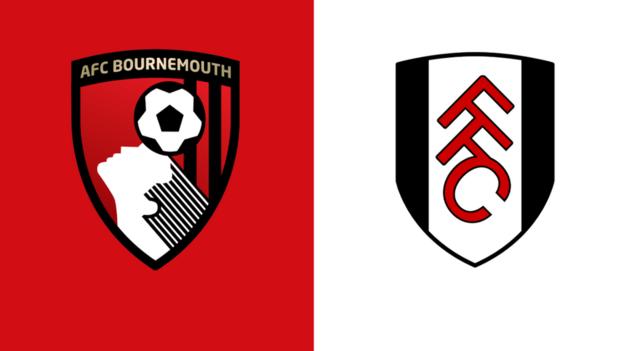 Bournemouth v Fulham
Like most of the teams fighting relegation, Bournemouth are relying heavily on their home form to pick up the points they need to stay up, so it is probably good news for them that I am not backing them to win here.
The Cherries are bottom of the league table based on my predictions with only one win all season, but every time I write them off, they get a good result.
Fulham will be without Aleksandar Mitrovic and Willian, who were both sent off in their FA Cup defeat by Manchester United, and they have now lost three games in a row in all competitions.
But I'd be surprised if we don't see some sort of reaction from them after what happened at Old Trafford. They had actually played really well in that game, before everything fell apart for them near the end.
Sutton's prediction: 1-1
Tommy's prediction: Bournemouth are another of our relegation rivals! Former Everton boss Marco Silva is having a good season with Fulham so I am backing them. 1-2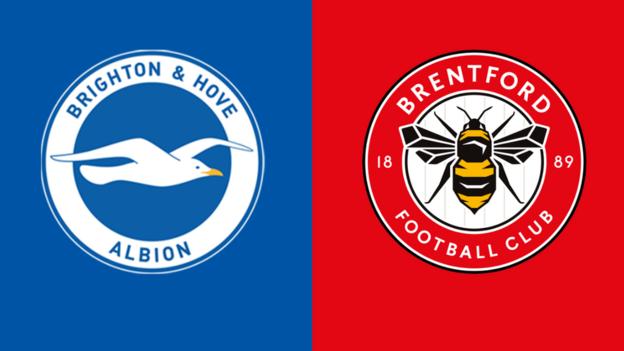 Brighton v Brentford
This is such a difficult one to call. Both of these teams have had such good seasons and they don't lose very often.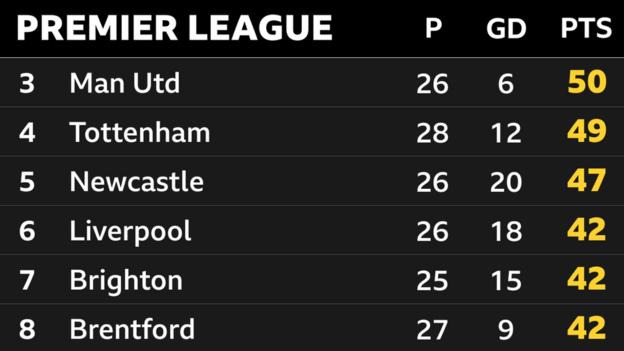 Brentford are such a well-balanced side and they have a smart manager in Thomas Frank who can switch styles when it's needed.
I think the Bees will score, but I am going to go with Brighton to edge it.
I love the freedom and invention the Seagulls are playing with and they are so good to watch. They have such great imagination, which might just give them the edge against Brentford's excellent organisation.
Sutton's prediction: 2-1
Tommy's prediction: 0-2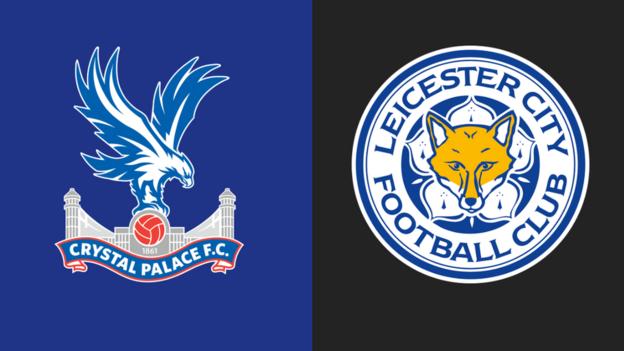 Crystal Palace v Leicester
I was not surprised at all to see Roy Hodgson brought back to replace Patrick Vieira as Crystal Palace manager and I am confident they will stay up.
That's partly because of Roy, who I really enjoyed playing under at Blackburn back in the late 1990s, but also because the Eagles are about to start a run of games against all the teams below them in the table.
That's one of the reasons I thought it was harsh to sack Vieira when they did, especially because they are still 12th despite being on a long winless run. But Roy is a smart guy who knows the club well and if they wanted to make the change, then giving him the job until the end of the season makes sense.
Roy's job is to keep them up rather than anything longer term, and he probably needs three wins from their final 10 games to do that.
We know he is pragmatic and I really don't see him losing his first game back in charge, especially at Selhurst Park, but equally I can't imagine them going into free-scoring mode and going all out to win it.
Leicester are the opposite, because their strengths are all about their attacking flair. They play well whenever James Maddison is prominent and I am huge fan of Harvey Barnes, but I just don't fancy the Foxes to keep a clean sheet.
Sutton's prediction: 1-1
Tommy's prediction: It is a bit of a shock to see Hodgson back at Palace. Leicester are really struggling, though, so I am going to say they will lose. 3-1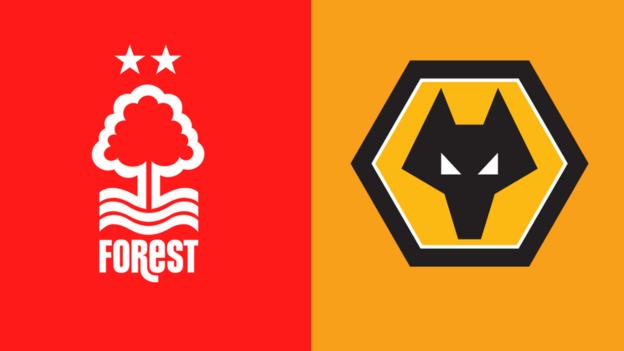 Nottingham Forest v Wolves
This is another tricky one, between two more teams in the bottom nine. I am worried about Wolves, who are still in trouble, but not as much as I am about Nottingham Forest.
It really feels like Forest can only pick up points at home, which piles the pressure on them for fixtures like this.
They lost their long unbeaten run at the City Ground against Newcastle last time out so this game feels even bigger.
The Forest fans have got behind their side so well all season but the players will be really nervous now. It's the same for a lot of the teams down there of course, but we don't know how they will handle that.
I don't see there being many goals – even one might be enough to decide things.
Sutton's prediction: 0-1
Tommy's prediction: 0-0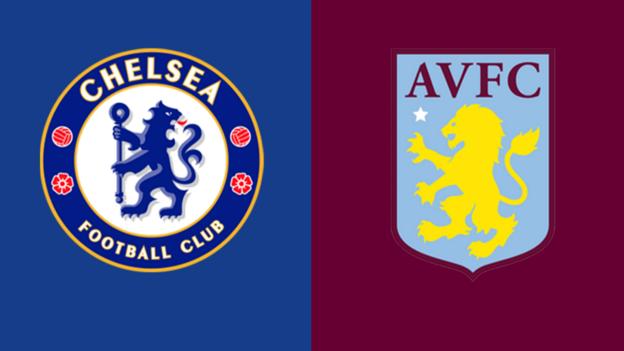 Chelsea v Aston Villa (17:30)
I have to put my hands up and admit I've got Aston Villa wrong under Unai Emery.
It felt to me like Villa had made a bit of progress since he replaced Steven Gerrard at the end of October but I found out this week that only three teams – Arsenal, Manchester City and Manchester United – have picked up more points since his first game in charge, a 3-1 win over United on 6 November.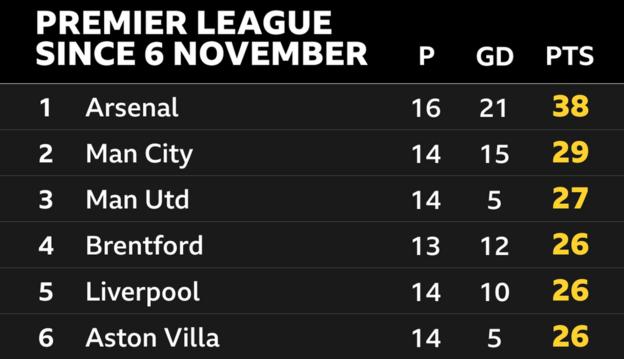 That stat surprised me, although I do always think of Villa as being dangerous. They carry a threat, whoever they play.
In contrast, I keep asking myself why I keep going for Chelsea – they have done much better in the table based on my predictions than in real life – and I guess they have pulled the wool over my eyes all season.
You can call me stubborn if you like but I am still going to stick with the Blues now because I do think they are getting better.
Sutton's prediction: 2-1
Tommy's prediction: Chelsea are so up and down but I still think they will win. 2-0
SUNDAY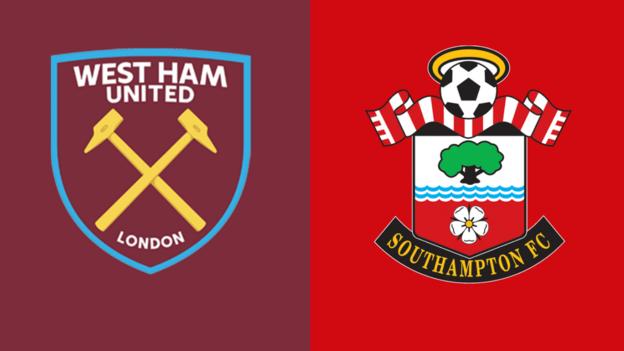 West Ham v Southampton (14:00)
West Ham are in trouble and really need to win this game but I keep thinking things will click for them and it hasn't happened so far.
The atmosphere is going to be so nervy and that will suit Southampton who, along with Leicester, are one of only two top-flight teams to have picked up more points away than they have done at home this season.
That away form will give Saints some belief and, with James Ward-Prowse in their side, they have such a weapon from free-kicks. They are bottom so they are under pressure but the real pressure on Sunday will be on the Hammers.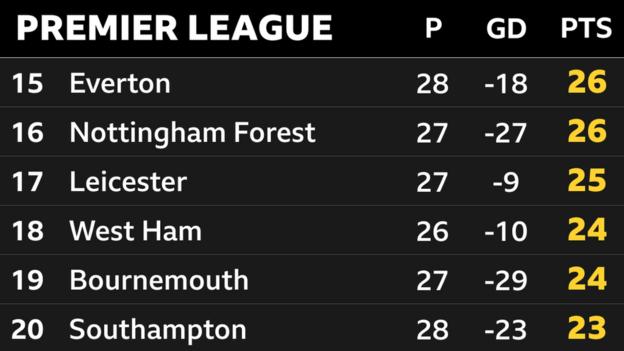 David Moyes said the video assistant referee "needed to go to Specsavers" after some important decisions went against his team when these two sides drew 1-1 at St Mary's Stadium in October – including what he called a "judo move" by a Southampton defender inside their box.
This time it is going to be just as close and even a draw might not be enough to save Moyes.
He definitely needs the big calls to go his way this time, otherwise he could end up on the wrong end of a karate move – and get the chop.
Sutton's prediction: 1-1
Tommy's prediction: Another draw, like Forest against Wolves – I just feel like a few of these games between the bottom sides will end up even. 1-1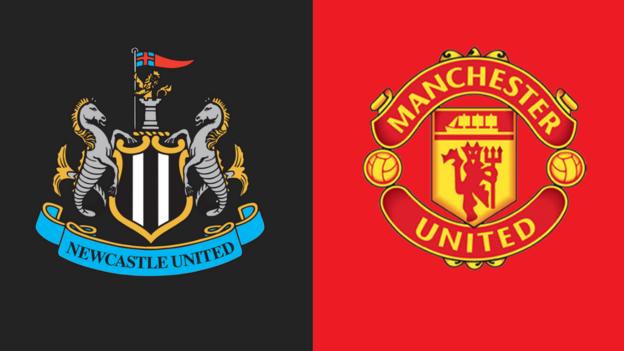 Newcastle Utd v Man Utd (16:30)
I've been wrong about Manchester United a few times this season but I don't think their form has been that great recently, whatever their results have been like.
They were very fortunate to recover to beat Fulham in the FA Cup last time out, and that was not the only time recently where they got away with it a bit – they have not been at their best for a while.
It would still not surprise me at all if Erik ten Hag's side went to St James' Park and won but this is an enormous game in the fight for the top four and I am expecting Newcastle United to rise to the occasion.
I like the way the Magpies play and, although they have not always turned that into goals, they've had more of a cutting edge since Alexander Isak returned to full fitness. I have a feeling the Sweden striker will make the difference again here.
Sutton's prediction: 2-1
Tommy's prediction: This will be close but I am going with Manchester United. 1-2
MONDAY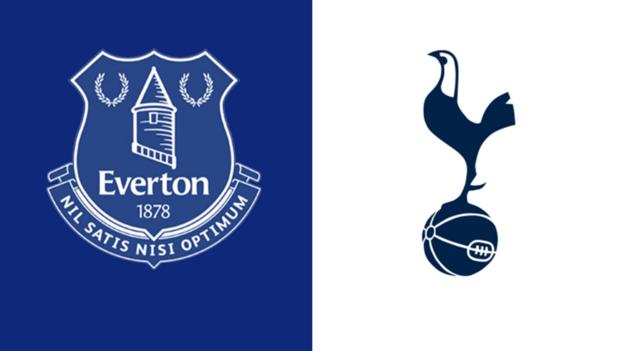 Everton v Tottenham (20:00)
I ended up changing my mind three times about which way this one would go. It really is impossible to call.
With Tottenham, this is where we find out whether they are better off without Antonio Conte, who had to go after his rant about his players and the club following their draw with Southampton.
Spurs can't really expect a new manager bounce under acting head coach Cristian Stellini, who was Conte's number two, and I don't think we will see them doing too much very differently.
Their inconsistency makes them so difficult to predict. Just looking at their attack, Son Heung-min has been poor all season, to the extent he apologised this week for letting Conte down. But then they've got Harry Kane, who can score from anywhere and could easily wallop a couple more in on Monday.
This is huge for Spurs in terms of making the top four but Everton need the victory even more because they have one of the toughest run-ins of any of the teams down at the bottom.
Home

Away

Tottenham

(3 April)

Man Utd

(8 April)

Fulham

(15 April)

Crystal Palace

(22 April)

Newcastle

(27 April)

Leicester

(1 May)

Man City

(13 May)

Brighton

(8 May)

Bournemouth

(28 May)

Wolves

(20 May)
They have picked up a couple of away draws under Sean Dyche and are playing with more purpose now but they have still not won on the road since 1 October so their form at Goodison is going to be vital. It has to happen here, basically.
We saw that desperation from them when they beat Brentford in their last home game and the intensity they showed to win that game might just get them over the line here too.
Southampton absolutely dominated Spurs in Conte's last game in charge. I suspect Dyche has seen that and is thinking that Everton can really get at them as well.
Sutton's prediction: 2-1
Tommy's prediction: It's a real shame that I can't make it to Goodison for a game this time while we are over on tour in the UK but I never miss any of Everton's games when I am in Australia. In terms of this one? Oh, come on! Of course Everton are going to win! 3-0
Chris Sutton and Tommy O'Dell were speaking to BBC Sport's Chris Bevan.
How did Sutton do last time?
From the last set of Premier League fixtures before the international break, Sutton got three correct results from seven matches, with no exact scores, giving him a total of 30 points.
With three games from that set of fixtures remaining, he is level with Black Honey guitarist Chris Ostler, who also has 30 points.
Sutton also made predictions for the FA Cup quarter-finals, although they do not count towards the tables below. He was correct with the outcome of three of the four ties, including the exact score of Brighton's 5-0 win over Grimsby, while Ostler picked all four winners.
Sutton has correctly picked the winner of 40 of the 60 FA Cup ties played from the third-round onwards, meaning he has a 67% success rate so far.
Gaz Coombes

120

Ben Bruce of Asking Alexandria, Ali Bruce-Ball, Modernlove drummer Cian McCluskey

110

Liam Fray of The Courteeners

100
Chris Sutton (average after 27 weeks)
72

Ian Broudie, GK from Bad Boy Chiller Crew, Corey Deshon, Kasabian's Serge Pizzorno, Editors bassist Russell Leetch, Aaron Moorhead, Phoenix singer Thomas Mars

70

AntsLive, Ross MacDonald from The 1975, Ryan Porteous

60

Justin Benson, Al Greenwood from Sports Team, Dapz on the Map, Chesney Hawkes, Ronnie Huxford from Those Damn Crows, Maulo

50

Blake Bowman, Tom from Dry Cleaning

40

Jessica McHale, Olivia Chomczuk, Casper van Dien, Black Honey guitarist Chris Ostler, Oli Shasha from FEET, Stereophonics guitarist Adam Zindani

30

Juice Menace, DJ Schak, Patrick Whelan

20
Chris Sutton

1,940

Guests

1,730
How did you get on?
Only 14% of you thought Leicester would hold Brentford, while 15% were right about Leeds beating Wolves.
Tottenham's draw with Southampton (17% predicted it) and Everton taking a point at Chelsea (14%) surprised you as much as it did Sutton and Ostler.
Position

Correct results

=1. Chris

3/10

=1. Guest

3/10

=1. You

3/10
*Win, draw, loss prediction based on highest % of vote for each match.
1. You

140/270 (52%)

2. Chris

132/270 (49%)

3. Guests

122/270 (45%)